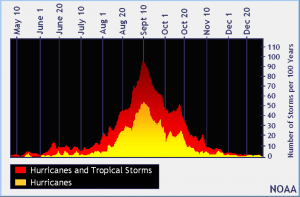 September is historically the most active month during the Atlantic Hurricane Season. Pre-planning and routine maintenance is critical and should be updated throughout the year. There are also short-term, storm readiness activities that can take place immediately once a hurricane or tropical storm has formed to safeguard your property, recover faster and minimize your losses:
Trim foliage to remove weakened or decaying limbs to mitigate damage from wind-swept debris.

Clean drains, gutters and downspouts to facilitate water flow.

Remove antennas or loose objects from the roof.

Secure all outdoor items such as signage, trash cans, outdoor furniture and storage sheds.

Inspect windows, doors and roof, then board and tarp if necessary.

Have fuel on hand and safely stored for emergency generators and test and maintain to ensure continuity of critical electrical power.
While no one can predict the exact direction a storm might take, you can take control by completing these steps to prepare your property should one come your way.
Should your residential or commercial property suffer any damage, contact the restoration experts at Paul Davis: 866.765.0773.